25% off Smarty's Unlimited SIM plan (£18.75 £25 per month)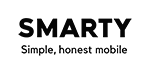 Smarty SIM Only
Unlimited Data
1 Month SIM
£18.75
a month
Unlimited
data
Unlimited
minutes
Unlimited
texts
No Credit Check
25% Off Until 16th July
More Info
Refer a friend and you both get a free month
Use in Europe for no extra cost
Powered by Three
Simple and flexible SIM only deal - Change whenever you like at no extra cost
Smarty; previously voted the UK's best value SIM only network has managed to pull another great deal out of the bag to entice customers away from the more expensive networks.
It's Unlimited SIM plan (Unlimited 4G & 3G data, calls and texts) has had it's price slashed for customers who get it before the 16th of July. Since Smarty provide rolling 1 month plans they're describing the new money-off deal as 25% off for life (or until you cancel)
See all Smarty SIM plans here
Smarty have really shaken up the UK's SIM only market in the last year or so by providing customer with incredibly low-priced plans ranging from 1GB to 8GB and giving customers a discount for unused data between months. It works by taking any unused GB from month A and adding a discount of £1.25 per GB to month B. So for example if you had 3GB unused from last month, you just saved yourself £3.75 this month!
We LOVE how Smarty is changing up the way customers can make the most of SIM only deals and the latest deal on their unlimited plan of £18.75 "for life" is a great example that will get many customers heads turning as they look for a more affordable option when switching to SIM only